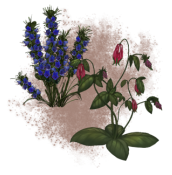 In Elder Scrolls Online, Alchemy is a crafting profession which produces various different potions, much like in the previous Elder Scrolls games. Anyone who has played Elder Scrolls games before knows that alchemy is an useful profession because the crafted potions are often very powerful and can mean the difference between life and death in certain situations.
There is a 30-second cooldown for using potions in ESO though, so you are not able to drink them somewhat indefinitely like you were able to in Skyrim.
For all skills and abilities, Alchemy included, players need to use skill points to unlock more powerful ways to craft items. The more skill points you use, the better products you'll be able to craft.
Just like in previous TES games, alchemy ingredients also known as reagents can be found and picked up out in the world.
Crafting Potions
The plants, flowers, herbs and mushrooms, also known as Reagents found in Tamriel all have their specific effects or Traits. A big part of alchemy is finding out the exact effects each different Reagent has. Using that knowledge and combining Reagents is vital in crafting useful potions.
To craft potions you need to be at an Alchemy station. There's two types of ingredients you need: the Solvent, such as water, and the Reagents. Every time you craft a potion you gain experience in Alchemy. Crafting potions with a higher level Solvent increased the potion's level requirement and strength, plus yields a much bigger experience gain, but it does require you to put skill points into Solvent Proficiency (see below). Any serious alchemist will put points into it, anyway. The greater your skill in Alchemy and the more skill points you have invested in that skill line, the more useful potions you can create.
The type of potion you create depends on the combination of reagents you use and their Alchemy Traits.
You can also create potions with our Alchemy Simulator. Our alchemy simulator also includes a tool that allows you to show all alchemy ingredients with a specific alchemy trait, ie. Restore Health.
Things to keep in mind when creating potions
If you attempt to create a potion using reagents without common Alchemy Traits, the attempt will fail, you will lose the reagents, and you will not receive a potion of any kind. You do still receive a small amount of Alchemy experience, though.
This means, in order to successfully create a potion, you need to use Reagents with common alchemy traits. The final effects of the potion will be defined by the shared traits between the Reagents.
For example, if you combine Columbine (Restore Health, Restore Stamina, Restore Magicka, Unstoppable) and Bugloss (Increase Spell Resist, Lower Spell Power, Restore Health, Restore Magicka) you will be able to create a potion with two effects, because these two reagents have two common traits: Restore Health and Restore Magicka – the final potion will restore both Health and Magicka.
Traits can be countered by their Anti Traits. Ravage Stamina counters Restore Stamina and vice versa. If you combine three reagents with 3 instances of Restore Stamina and 2 instances of Ravage Stamina, Restore Stamina will NOT be in the final potion, because 2 instances of Restore Stamina have been nullified by Ravage Stamina. You need 2 instances of a Trait for it to make it to the potion.
When you successfully create a potion, all of the common alchemy traits between the reagents used in the potion creating process will be learned. From then on, every time you deal with these reagents, those alchemy traits will be revealed.
The Best Alchemy Potions in ESO
To save space & make this guide more readable, I won't copy paste the full list of potions here.  Link to the most useful alchemy potions & alchemy reagents.
Alchemy Reagent List and Alchemy Traits
Each herb, mushroom, flower or plant in ESO comes with four effects which are used to determine the properties of the crafted potion. As you progress in Alchemy, you'll be able to learn the effects and use this knowledge to craft better-quality potions.
For those of you who want to know which plants to look out for, we have compiled a list of all known alchemy reagents and their effects here. This data was gathered in Beta and may not be accurate at launch.
The TES fans will be pleased to see Nirnroot on the list! Yup, it does exist in Elder Scrolls Online as well, and it still makes those distinct noises.
Looking at the reagent effects, we can clearly see that the usual restore Stamina, Health and Magicka potions will be relevant in ESO. On top of that we'll have potions that can provide a significant boost in different situations, such as crit boost potions, invisiblity potions, run speed potions and so on.
The fun part in Alchemy will be combining different reagents and seeing what kind of potions you'll end up with. I'll leave this for you to figure out.
Reagent
Alchemy Traits / Effects
Blessed Thistle

Restore Stamina
Ravage Health
Increase Weapon Power
Speed (increases running speed by 30%)

Blue Entoloma

Ravage Magicka
Restore Health
Invisibility
Lower Spell Power

Bugloss

Increase Spell Resist
Lower Spell Power
Restore Health
Restore Magicka

Columbine

Restore Health
Restore Stamina
Restore Magicka
Unstoppable (immunity to stuns and disorients)

Cornflower

Restore Magicka
Ravage Health
Increase Spell Power
Detection

Dragonthorn

Increase Weapon Power
Lower Armor
Restore Stamina
Weapon Crit

Emetic Russula

Ravage Health
Ravage Stamina
Ravage Magicka
Stun

Imp Stool

Lower Weapon Power
Increase Armor
Ravage Stamina
Lower Weapon Crit

Lady's Smock

Increase Spell Power
Lower Spell Resist
Restore Magicka
Spell Crit

Luminous Russula

Ravage Stamina
Restore Health
Lower Weapon Power
Reduce Speed

Mountain Flower

Increase Armor
Lower Weapon Power
Restore Health
Restore Stamina

Namira's Rot

Spell Crit
Invisibility
Speed
Unstoppable

Nirnroot

Ravage Health
Lower Weapon Crit
Lower Spell Crit
Invisibility

Stinkhorn

Lower Armor
Increase Weapon power
Ravage Health
Ravage Stamina

Violet Coprinus

Lower Spell Resist
Increase Spell power
Ravage Health
Ravage Magicka

Water Hyacinth

Restore Health
Weapon Crit
Spell Crit
Stun

Whitecap

Lower spell Power
Ravage Magicka
Increase Spell Resist
Lower Spell Crit

Wormwood

Weapon Crit
Reduce Speed
Detection
Unstoppable
Anti Traits
This is where Alchemy gets interesting. Certain Reagent Traits have a counter version of them. Ravage Health, for example, counters Restore Health. These are called anti traits, and at least for now, they have no use in Alchemy and are nothing but a pain in the backside, because they are only applied to you. If Zenimax decides to add poisons in ESO, it may completely change the way Alchemy works.
| Trait | Anti Trait |
| --- | --- |
| Restore Health | Ravage Health |
| Restore Magicka | Ravage Magicka |
| Restore Stamina | Ravage Stamina |
| Increase Weapon Power | Lower Weapon Power |
| Increase Spell Power | Lower Spell Power |
| Weapon Crit | Lower Weapon Crit |
| Spell Crit | Lower Spell Crit |
| Increase Armor | Lower Armor |
| Increase Spell Resist | Lower Spell Resist |
| Unstoppable | Stun |
| Speed | Reduce Speed |
| Invisibility | Detection |
Alchemy Skill Line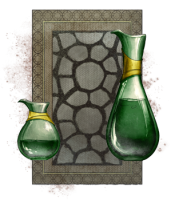 The Alchemy skill line has a number of more or less useful passive skills, which give bonuses to alchemists.
Solvent Proficiency enables alchemists to use different solvent types to make higher level potions, which means it is a passive skill that needs skill point investment if you want to make useful potions at level 50.
Keen eye: Reagents will make reagents easier to spot. It looks like more of a luxury passive skill to have rather than a necessity, but if it helps you in gathering more reagents, it's probably worth it.
Medicinal Use increases the length of potion effects, which is always good. It isn't strictly Alchemy related though, because it doesn't affect the actual stats of the potion its self, but how your character benefits from the potion.
Chemistry is no doubt a must have for any alchemist who wishes to produce potions for frequent use. Up to extra three potions per crafting attempt is a huge bonus from a crafter's point of view, and is very hard to justify not taking.
Laboratory Use allows the alchemist to use more reagents per potion when crafting them. It's unclear how this will affect the potion or its quality, but it's fair to assume there will be a benefit. If you can use three reagents with the same effect, for example restore stamina, it's bound to be more effective than using just two reagents.
Snakeblood  reduces the negative effects in potions. It's hard to say how useful this passive will be. If standard potions have severe drawbacks to them, Snakeblood might be a very valuable skill for all alchemists.
Alchemy Skills
Passive

Solvent Proficiency (1/7)

Allows alchemist to use [solvent type] to
make level X potions.

Passive

Keen Eye: Reagents (0/3)

Reagents in the world will be easier to
see within 20/30/40 meters.

Passive

Medicinal Use (0/3)

When using potions, resulting effects last 10%
longer.

Passive

Chemistry (0/3)

Produces 1 extra potion per crafting attempt.

Passive

Laboratory Use

Allows the use of up to 3 reagents when
crafting potions.

Passive

Snakeblood (0/3)

Reduces negative effects in potions by 50%.