Orsinium is the second official DLC game pack for The Elder Scrolls Online and it will launch officially on PC/Mac on November 2nd (already available on ESOTU PTS), Xbox One on November 17th and Playstation 4 on November 18th. It boasts over 20 hours of story content and quests. The DLC will costs 3,000 crowns in the ESOTU Crown Store. It will be free to those who have active ESO Plus subscription.
The base game will receive an update which adds many features like gamepad support for PC, subtitles, LFG system improvements to name a few.
Orsinium DLC price details
The DLC will be included in ESO Plus membership (when or if your subscription ends you need to buy it from Crown store). The base DLC costs 3,000 crowns for everyone else. There's also "fluff version" available (Orsinium DLC Collector's Bundle) that costs 5,000 crowns and includes the following things:
The Orsinium DLC game pack
The Cave Bear Mount
The Cave Bear Cub
Five Crown Experience Scrolls.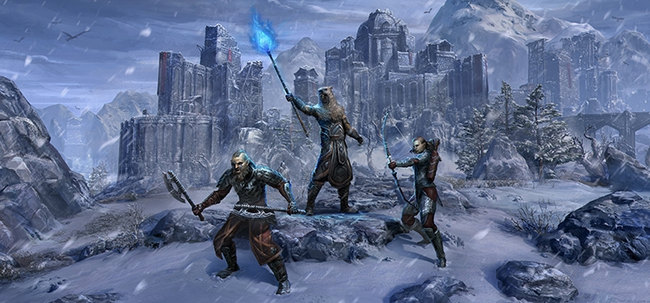 Orsinium DLC details
Orsinium DLC game pack grants you access to the full city of Orsinium and zone of Wrothgar. That includes the following:
Over 20 hours of captivating story content and quests
A long-awaited exploration of the culture of Tamriel's Orcs
A colossal new zone available to characters of all levels
A new single-player progressive challenge, The Maelstrom Arena

Available in Normal and Veteran versions
Grants special rewards only obtainable by completing arenas
Includes class-specific leaderboards, so you can see how you match up against your fellow combatants

Quests and objectives that contribute to rebuilding the city of Orsinium, returning it to its former glory
Two large public dungeons, Old Orsinium and Rkindaleft, featuring all-new challenges for both solo and group play
Special harvest nodes that scale to the most advanced material type your character can use for crafting
Six all-new, challenging world bosses
Powerful new gear, unique crafting styles, and other rewards inspired by the history and denizens of Wrothgar

Four new Provisioner recipes, only available in Wrothgar
18 powerful new item sets including 6 ability-altering weapons, 9 sets obtained by participating in activities in Wrothgar, and 3 new craftable sets
The Ancient Orc crafting style
Six new collectible costumes only available in Wrothgar

Over an hour of brand new in-game musical score
Orsinium base-game patch details
New stuff coming in the new patch:
Gamepad support
Subtitles
LFG improvements – cross-alliance dungeons
Champion Point cap & catch-up system
Shield Dyeing
Improvements to battle-leveling
Akaviri crafting style
Ability balance and bug fixes
New ways to spend Alliance Points
Increased item drop rates
Read more:
http://www.elderscrollsonline.com/en-gb/news/post/2015/10/05/orsinium-launch-details-and-new-video