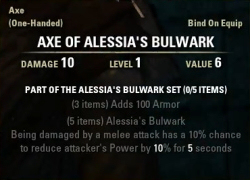 Crafted set items are a huge incentive to work on your smith professions and research more traits for armor and weapons in Elder Scrolls Online. Item sets give bonuses based on how many items of the set you're wearing. Every crafted item set in ESO has different bonuses for using two, three, four or five set pieces at the same time.
You can mix and match your set pieces in any way you wish. Your Light Armor gloves could be one piece of the set, Heavy Armor helm the second piece, Medium Armor belt the third piece and the daggers you are dual wielding would make up for the 5-piece set bonus.
Full list of crafted item sets, set bonuses and crafting locations for each alliance below. See our item set guide for other, non-crafted item sets.
Why Your Weapon Choice Matters
Yes – weapons are part of the crafted set bonuses too. This is may be more important than you would think at first, because it means those who dual-wield weapons or use a shield have one extra slot for crafted items. That's two set items from weapons and seven from armor. If you use a two handed weapon (destruction staff, restoration staff, bow or any two handed melee weapon) you'll always end up with 1 less slot for crafted items.
As of Update 3, all crafted item sets have a 2-piece, 3-piece, 4-piece and 5-piece bonus. This means two-handed weapon users are no longer penalized as harshly when it comes to mixing and matching set bonuses. Before update 3, there were only 3-piece and 5-piece bonuses. The 2-piece and 4-piece bonuses of Update 3 give much more room for customization, and enable you to rock 4x 2-piece bonuses if you wanted to.
You will not be able to use two 5-piece crafted item bonus whether you dual-wielded or used two-handed weapons, because the max crafted items you can have on you at any specific time is 9.
Note that 5-piece bonus also includes the 2-piece, 3-piece, and 4-piece bonuses.
How to Craft Set Items in ESO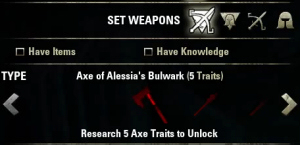 Anyone could craft set items in ESO, but there are a couple of requirements. First of all, all crafted item sets have a Trait Requirement. What the Trait Requirement means, is you can only craft an item of the set if you have learned the required number of Traits for that item. You can learn Traits for Blacksmithing, Clothing and Woodworking by researching, which is a very time-consuming process. That's why Trait Requirement is the biggest obstacle on your path.
I've further explained why it's a big deal here. 'Too long; did not read' explanation: In a perfect world, you'll be able to craft the 8-Trait sets after 51 days. For most players with a bit of crafting dedication it's likely going to be near double that time.
The second requirement is that you have to be able to travel to the special crafting station. Even if you are very low level, you could in in theory at least travel to most of these locations, so your level on its own is not an obstacle. There are a couple of sets which require you to be at a certain stage of a quest line. Spectre's Eye set is crafted in Coldharbour, so unless you have progressed far enough in the main quest line, you will not be able to craft that set. Same thing with Eyes of Mara, Shalidor's Curse and Kagrenac's Hope sets – these sets require you to have finished Mages Guild and Fighters Guild quest lines.
There are no other requirements. You craft a set piece like you would craft any other item – there are no special materials needed.
The Set Bonuses Scale
The values of the set bonuses listed below are for Veteran Rank 12 items. Many of the values change depending on the level of the item. The higher the item's level, the better the set bonus.
Set bonuses can scale based on two things:
The quality of the item
Your stats
Whitestrake's Retribution damage shield bonus seems to scale depending on your Stamina, for example.
Hunding's Rage 5-piece weapon damage bonus scales based on the item's quality.
Not all set bonuses scale. Death's Wind 5-piece weapon damage bonus, for example, doesn't change even if you upgrade the item's quality.
List of Crafted Item Sets in ESO
There are 23 different crafted item sets in Elder Scrolls Online. You can only craft set items at a specific crafting station. Set item crafting stations are scattered across Tamriel and each Alliance has their own locations for the great majority of the sets, which are listed below as well as the traits required to craft the set item.
There's three set crafting stations in every major alliance zone, two in Coldharbour and two are accessed via Mages Guild and Fighters Guild each. One crafted set station is in Craglorn.
(AD stands for Aldmeri Dominion, DC for Daggerfall Covenant and EP for Ebonheart Pact.)
Last Updated: 15th June, 2015.
Set Name
Set Bonus
Traits Required
AD Location
DC Location
EP Location
Night's Silence
2 Items

3 Items

4 Items

5 Items

Night's Silence: Increase speed while Sneaking by 60%

2 Traits
Auridon
Glenumbra
Stonefalls
Ashen Grip
2 Items

3 Items

4 Items

5 Items

10% chance to breath fire for Flame damage on melee hits. This effect can occur once every 4 seconds

2 Traits
Auridon
Glenumbra
Stonefalls
Death's Wind
2 Items

3 Items

4 Items

5 Items

Death's Wind: If struck by a melee attack while below 35% health, nearby enemies arek nocked back and stunned for 4 seconds. This effect can only happen once every 30 seconds.

2 Traits
Auridon
Glenumbra
Stonefalls
Torug's Pact
2 Items

3 Items

4 Items

5 Items

Torug's Pact: Reduce weapon enchantment's internal cooldown by 1 second. Increases enchantment potency by 30%

3 Traits
Grahtwood
Stormhaven
Deshaan
Seducer
2 Items

3 Items

4 Items

5 Items

Armor of the Seducer: Reduce the Magicka cost of abilities by 8%

3 Traits
Grahtwood
Stormhaven
Deshaan
Twilight's Embrace
2 Items

3 Items

4 Items

5 Items

Twilight's Embrace: When you are healed, gain 10% additional healing.

3 Traits
Grahtwood
Stormhaven
Deshaan
Whitestrake's Retribution
2 Items

3 Items

4 Items

5 Items

Whitestrake's Retribution: If wearers health is below 30%, gain an 790 damage shield (Scales off Stamina) for 8 seconds. This effect can occur no more then once per 15 seconds.

4 Traits
Greenshade
Rivenspire
Shadowfen
Hist Bark
2 Items

3 Items

4 Items

5 Items

Hist Bark: While Blocking, gain Dodge Rating.

4 Traits
Greenshade
Rivenspire
Shadowfen
Magnus' Gift
2 Items

3 Items

4 Items

5 Items

Magnus' Gift: 8% Chance to negate the cost of a spell.

4 Traits
Greenshade
Rivenspire
Shadowfen
Alessia's Bulwark
2 Items

3 Items

4 Items

5 Items

Alessia's Bulwark: Being damaged by a Melee Attack has a 15% chance to reduce the attacker's Weapon Damage by 10% for 5 seconds.

5 Traits
Malabal Tor

Chancel of Divine Entreaty

Alik'r Desert
Eastmarch
Song of Lamae
2 Items

3 Items

4 Items

5 Items

Song of Lamae: When Health drops below 30%, deal Magic Damage to the attacker and recover Health. 30 Second Cooldown

5 Traits
Malabal Tor
Alik'r Desert
Eastmarch

Tinkerer Tobin's Workshop

Vampire's Kiss
2 Items

3 Items

4 Items

5 Items

Blood Frenzy: Killing an opponent heals you for 336 over 8 seconds.

5 Traits
Malabal Tor
Alik'r Desert
Eastmarch

Crimson Kada's Crafting Cavern

Hunding's Rage
2 Items

3 Items

4 Items

5 Items

Hunding's Rage: Increase Weapon Damage.

6 Traits
Reaper's March
Bangkorai
The Rift
Willow's Path
2 Items

3 Items

4 Items

5 Items

Willow's Path: Increase all regeneration in combat by 15%.

6 Traits
Reaper's March
Bangkorai
The Rift
Night Mother's Gaze
2 Items

3 Items

4 Items

5 Items

Night Mother's Gaze: Critical attacks also reduce the targets Armor for 5 seconds

6 Traits
Reaper's March
Bangkorai
The Rift
Spectre's Eye
2 Items

3 Items

4 Items

5 Items

Spectre's Eye: Gain 20% dodge chance for 3 seconds after casting a spell that costs Magicka. This effect can apply once every 6 seconds

8 Traits
Coldharbour
Coldharbour
Coldharbour
Oblivion's Foe
2 Items

3 Items

4 Items

5 Items

Oblivion's Foe: Recover two soul gems when resurrecting a fallen ally. 4 minute cooldown

8 Traits
Coldharbour

South of Font of Schemes (area not marked on map)

Coldharbour

South of Font of Schemes (area not marked on map)

Coldharbour

South of Font of Schemes (area not marked on map)

Eyes of Mara
2 Items

3 Items

4 Items

5 Items

Eyes of Mara: Reduce the Magicka cost of Restoration Staff abilities by 12%.

8 Traits
Mages Guild

Eyevea (end of Mages Guild quest line)

Mages Guild

Eyevea (end of Mages Guild quest line)

Mages Guild

Eyevea (end of Mages Guild quest line)

Kagrenac's Hope
2 Items

3 Items

4 Items

5 Items

Kagrenac's Hope: Decrease time to resurrect an ally by 25%, when resurrecting restore Magicka.

8 Traits
Fighters Guild

The Earth Forge (end of Fighters Guild quest line)

Fighters Guild

The Earth Forge (end of Fighters Guild quest line)

Fighters Guild

The Earth Forge (end of Fighters Guild quest line)

Orgnum's Scales
2 Items

3 Items

4 Items

5 Items

Orgnum's Scales: If below 60% Health, increase Health Revoery by 50%.

8 Traits
Fighters Guild

The Earth Forge, Pressure Room III (end of Fighters Guild quest line)

Fighters Guild

The Earth Forge, Pressure Room III (end of Fighters Guild quest line)

Fighters Guild

The Earth Forge, Pressure Room III (end of Fighters Guild quest line)

Shalidor's Curse
2 Items

3 Items

4 Items

5 Items

Shalidor's Curse: When attacking a target while you are below 30% Health, gain Health. 1 minute cooldown.

8 Traits
Mages Guild

Eyevea (end of Mages Guild quest line)

Mages Guild

Eyevea (end of Mages Guild quest line)

Mages Guild

Eyevea (end of Mages Guild quest line)

Way of the Arena
2 Items

3 Items

4 Items

5 Items

Way of the Arena: Reduce cost of Break Free by 40%.

8 Traits
Craglorn
Craglorn
Craglorn
Twice-Born Star
2 Items

3 Items

4 Items

5 Items

Allows you to have two Mundus Stone Boons at the same time.

9 Traits
Craglorn

Atelier of the Twice-Born Star

Craglorn

Atelier of the Twice-Born Star

Craglorn

Atelier of the Twice-Born Star