The gates of the Imperial City have opened to the PC and Mac players. The Imperial City launch for Xbox One and PlayStation®4 will take place on 9/15 and 9/16.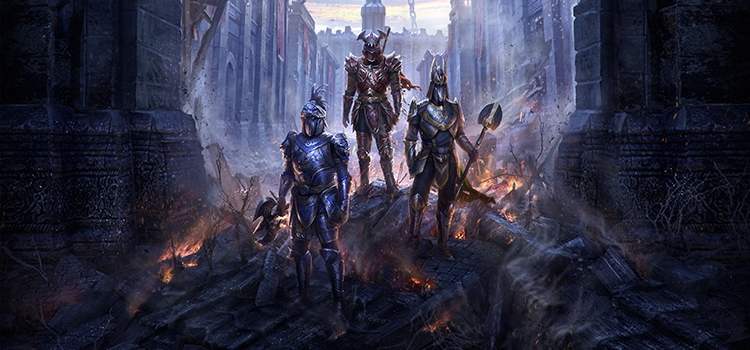 Creative Director of ESO, Rich Lambert, on Imperial City's launch:
Imperial City! Finally!

Today is a very exciting day for us here at ZeniMax Online Studios – the Imperial City DLC game pack is now live for PC and Mac. (Consoles, we're coming for you in 2 weeks.) We've put a ton of effort into making sure this DLC is packed with amazing locations to explore, new gameplay, items, and dungeons. It hasn't been an easy road, but we've crossed the finish line and hope you love it as much as we do.

The Imperial City is special. Not only because it's our first DLC, but because it's a huge milestone for us as a studio. We are now able to shift our focus from business model changes and console launch to creating new, meaningful content. It's the first of many new quarterly DLC game packs, and we couldn't be more thrilled.

It would be remiss of me to not take a moment to thank the efforts of everyone involved in getting the Imperial City completed. Thank you to the development team for their efforts in getting this done – your hard work is definitely appreciated! Special thank you also to our streamers and to all of the players that logged into PTS! It was fantastic to see you spend so much time testing out the content and giving quality bugs/feedback. The Imperial City is unquestionably a much more polished and fun experience thanks to you!

The Imperial City DLC game pack isn't the end … it's just the beginning. Orsinium is just around the corner—we also have tons of other new stuff and quality of life updates in the works. More details soon, so for now just sit back, buckle up and enjoy the Imperial City.

– Rich
Here's the full article on Imperial City's Launch. (elderscrollsonline.com)
New Content in Imperial City
The Imperial City, located in the heart of the Cyrodiilic Empire, offers hours of new and compelling story content, opportunities to fight enemy alliance players and never-before-seen monsters, two new four-player dungeons, powerful new weapons, armor, and jewelry to earn, and much more—all available starting at level 10.
The Imperial City comes in two parts—the DLC game pack, and the base-game patch. The base-game patch will be available to everyone who owns ESOTU, and the DLC game pack will automatically download with it, allowing you instant access to the new content when you purchase it, or activate an ESO Plus™ membership. Purchasing the Imperial City DLC game pack gives you full access to the Imperial City zone, and includes the following:
All new content, available to players that are level 10 or higher
A brand new PvP/PvE space that includes six Imperial City Districts
New story content, quests, and characters within the Imperial City
A new Imperial City PvP Public Dungeon: The Imperial Sewers
Two new PvE Imperial City group dungeons with Normal and Veteran versions: White-Gold Tower and Imperial City Prison
23 new item sets that scale up to Veteran Rank 16
New Imperial City collectibles, including pets, polymorphs, and a skin, earned by participating in Imperial City activities
The Xivkyn racial motif crafting style
The Tel Var Stone system used for the purchase of Veteran gear
Trophy Vaults that contain new Veteran Rank 16 jewelry sets and a chance for Xivkyn racial motif pages