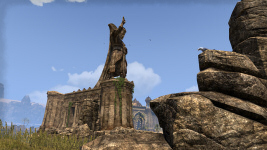 OVERVIEW
Welcome to The Elder Scrolls Online v.1.4.3, our fourth major content update!
In this update, we've added the upper region of Craglorn for you to explore, plus a new Trial – Sanctum Ophidia. We've also added the Dragonstar Arena where you'll be challenged to defeat 10 stages of monsters with a group of 4. The Veteran Rank cap has also been raised to VR14 to account for these new encounters.
We've begun our grouping improvements to many PvE objectives, and have continued our work on expanding existing delves. You'll also find that we've added new ability altering enchantments, which you can read more about below.
In addition to all new features, we've continued to improve many areas of the game including gameplay, art, itemization, quests, UI, and the Alliance War. We hope you enjoy the latest update!