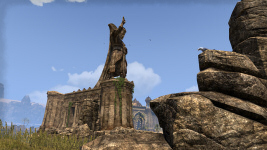 v1.5 is going to be ridiculously massive patch, you'll see…
OVERVIEW
Welcome to The Elder Scrolls Online v1.5, our fifth major content update! We have many new features in store for you.
In this update, we've added Veteran City of Ash, the continuation of the dungeon City of Ash, and implemented our improved facial animations so NPCs will look more realistic when you speak to them. We've also implemented the next phase of the Veteran Rank improvements, which you can read more about below.
We're introducing both dungeon scaling and solo-instance scaling in this update so you can go back and revisit some of your favorite dungeons, and have also implemented new Undaunted Enclaves and Pledges that you can perform every 20 hours.
Crafters have a lot to look forward to as well! You'll be able to undertake certification, as well as crafting writs and survey reports once you're certified. You'll want to read more about this further down. In addition, we've added the Dwemer crafting style, and Twice-Born Star item set.
Last but certainly not least, you can check out our new chat bubbles, but you'll have to enable them first in the Settings menu.
In addition to all the new features, we've gone through and polished the game to address many issues in regards to combat, gameplay, dungeons, quests, and more. Be sure to hop on the PTS – now with Live characters from the North American megaserver available – and let us know what you think!