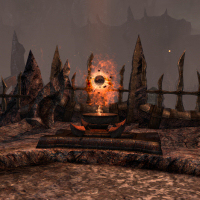 According to an IGN article & interview with Paul Sage, the targeted release date of ESO's first major content is this week's Thursday or Friday. That'd be tomorrow or the day after tomorrow.
EDIT: Zenimax have now confirmed Craglorn will be going live starting tomorrow.
Zenimax is planning on releasing regular content updates every 4-6 weeks. Releasing Craglorn this week would roughly match those plans.
The IGN article also revealed that the second content update will be the Veteran Dungeon Crypt of Hearts.
The first content update will include the adventure zone Craglorn, and the large group PvE content called Trials. The level cap will also be increased to VR12.