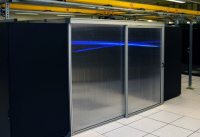 Many EU-based ESO players, myself included, have been waiting for this day. The European ESO Megaserver will finally be migrated to Frankfurt, Germany.
The European megaserver migration will begin at (1:00PM BST) on July 30th, and the process is anticipated to be complete by (10:00PM BST).
The EU megaserver will be unavailable during this time. Official ESO website, forums and account management along with the NA megaserver will be up and running.
What Will Change with the Migration?
The most important change to EU players is the physical server location, which will lower the delay and pings of EU based players. Whilst the game has been playable, you definitely noticed the high-ish ping as an European.
It's a big quality of life improvement for many of us.
The migration does not require anything from those playing on the EU megaserver. There will be no patch to download, and all characters should remain just as they were before.