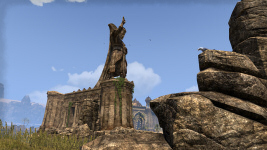 ZOS will be releasing new patch on Monday that is mostly meant to fix some technical issues. Nightblade and Templar will also receive some tweaks.
On Monday (6/2) during the regular maintenance period, we'll be pushing an incremental patch to the live megaservers. The patch includes a handful of important fixes and improvements. We're still working on finalizing the complete patch notes, but we wanted to share some of the highlights with you now:
We do have more skill line fixes and improvements on the way, and are looking at which ones we can get out next week. We'll keep you updated.
Alliance War
Implemented some memory fixes which will improve performance (decrease latency) in Cyrodiil.
Caltrops: Fixed an issue with Caltrops – you will no longer be immune to siege damage.
Fixed an issue where some container rewards received through mail by non-veteran rank player characters contained items with no level or icon.
Nightblade
Catalyst: This passive ability's bonus has been increased to 15% for Rank I and 30% for Rank II.
Path of Darkness: This ability's damage has been slightly increased.
Veil of Blades: This ability is now capable of critical strikes.
Templar
Puncturing Strikes: Reduced the global cooldown triggered after this ability is used, and slightly increased the ability resource cost. This change impacts Puncturing Strikes and all its morphs.
Trials
Fixed an issue with treasure chests so more than one group member can now loot the chest before it disappears.
Miscellaneous
Fixed an issue that was causing some people to get stuck at the login screen or character select screen for a long period of time after experiencing a crash.
Graphics: We have implemented a fix for those who could not see ghosts when using DX9 after patch 1.1.2. However, we encourage you to use DX11 unless playing on Windows XP.
Fixed an issue that was causing some collected books to disappear or get replaced when you used a Wayshrine or reloaded the game.