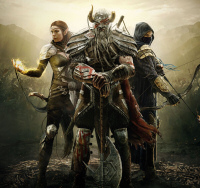 Starting on Monday, July 7th, the veteran system in ESO sees its first major changes. Zenimax already announced their plans to tweak veteran content back in late May.
As expected, the difficulty level of veteran content is being lowered. After the balance changes are implemented,  VR content will be more suited for solo play, matching the 1-50 gameplay experience.
On launch, Zenimax wanted to encourage players to group up for Veteran Content. This is the main reason for the  current step up in difficulty comparing to level 1-50 content. Simply put, VR content wasn't tailored for solo players. A solo player could certainly reach the level cap, but grouping up makes it that much faster and easier comparing to 1-50. This will now change, at least up to a point.
There are more VR system changes coming in the near future; this is just the beginning.
You can read Community Manager Jessica Folsom's full post on VR content changes below.
ZOS_JessicaFolsom wrote:
Hi everyone,

One of the topics we frequently get feedback on is ESO's Veteran content. Some of you may have seen our recent comments about changes we have in store for ESO's post-50 experience. We want you to know we've been listening to your suggestions and concerns, but more importantly, we want to tell you what we're doing about them. Today, we have an update from the ESO Dev Team to share with you.

Some of the concerns you've called out are: Veteran content is too much of a departure from the level 1 to 50 experience, playing and leveling through it is too much of a grind, and that the rewards you get don't match the effort you have to put in to progress.

One of the guiding principles of our Veteran gameplay was to encourage you (not force you) to group. We wanted you to be able to reach max level by playing solo if you wished, but still encourage you to group with others along the way. This principle was the reason we made our post-50 zones more difficult; we wanted you to get together with others to take on tougher challenges and form social bonds while you did so. But we understand that, despite our vision, this is not how all our players want to experience the game beyond level 50.

We recognize that many of you love the game you played while leveling up, and that you feel the post-50 zones are too much of a departure from that experience. We hear your requests to continue participating in solo content as you progress through Veteran Ranks, and we're acting on that feedback.

Starting next week on Monday, July 7th, you'll see the first significant change we're making to the Veteran System. We're implementing some balance changes to content in post-50 zones that will make it much more like the content from levels 1-50. Our goal is to remove the feeling of "I have just hit a wall of difficulty" that many of you have expressed—you'll be able to solo much more easily. This is just the first of many large-scale changes coming to ESO's Veteran System, and we encourage you to watch our QuakeCon panel on Friday, July 17th, where we'll go into much more detail about the other parts.

Thank you for sticking with us, sharing your concerns, and supporting a game we all love.