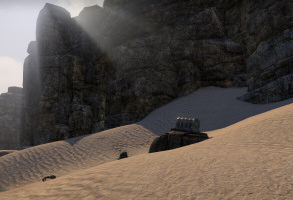 Matt Firor's latest post reveals what kind of content we can expect in the future.
Some of the things he mentions, like the Field of View Slider and Death Recap are common knowledge, but his post now officially confirms that ESO will have a Spellcrafting system, armor dyes and a Justice system among many other things.
There's lots of other interesting bits which I've summarized below.
Confirmed Future Content
All of the features below have been confirmed to be under active development, but no dates have been revealed yet.
A system that allows grouped players to see each other even when they're in different phases
A justice system—steal from and kill NPCs and deal with the consequences if you are caught
Migration of European Megaserver to our European datacenter.
Field of View (FOV) adjustment
Two new Veteran Dungeons: Crypt of Hearts and City of Ash
New region of Craglorn with a new Trial (the Serpent)
Increased ability to pick up items in the world
Thieves Guild and Dark Brotherhood storyline and quests.
Spellcrafting
Horse Racing
Dragonstar Arena—similar  to Trials, but built for a group of four
Improvements to fishing
Crafting system improvements
Improved Looking for Group system
Better NPC facial animations
Guild functionality updates: guild store interface updates, customizable guild insignias, tabards, and guild ranks, and Guild Kiosks—guild stores open to everyone that are available to the highest-bidding guild.
Auto-leveling dungeons that level to your group leader
Awards when you repeat dungeons
Imperial City PvP dungeon
Lots of very interesting details here. Spellcrafting, horse racing, Dragonstar Arena, Global Guild Stores open to the highest bidding guild, and of course the Dark Brotherhood & Thieves Guild are the most interesting features to me personally.
There's certainly a lot to look forward to.
Five Days of Free Game Time
It also looks like everyone who subscribed prior to May 1st will be getting five free days of game time as a compensation for server downtime.
Matt Firor wrote:
We recognize that some of the launch issues—especially black market botting and spam, de-synced quests, and the disappearing bank slot bug—affected the early gameplay experience of a number of players. Fixing these problems required us to take the megaservers offline, costing players time in the game. In recognition of this experience and to show our gratitude to everyone who supported the launch, we are giving an additional five days of included game time to every ESO player who set up an active account prior to 8pm EDT Thursday May 1st and who are currently enjoying their 30 days of included game time. If you're eligible to receive the five additional days, a confirmation will be sent to your account's registered email address. For further details, please visit help.elderscrollsonline.com. This is a small gesture to show our thanks for being part of the ESO community while we work to make this extraordinary game and service even better.