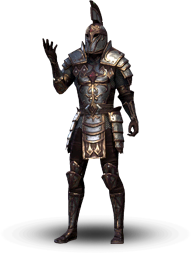 Imperial Edition was leaked yesterday and now it has been officially confirmed. Pre-orders are up for all platforms and you can choose between  Imperial Edition and Standard Edition. Imperial Edition gets some special goodies and the pre-order benefits are simply put, amazing.
Honestly I think that Zenimax has to confirm some of the bonuses that the pre-order benefits bring. It could be that they were in a hurry to put the official word out after the leak, but you can't just drop the bomb like that and casually say players will be able to PLAY the imperial race, and by pre-ordering, they also get to CHOOSE their own factions.
Imperial Edition exclusive content includes the following:
Play as an Imperial in any alliance. Apparently Imperials will get unique gear, bonuses and crafting styles too.
You can have Imperial White Horse.
Mudcrab vanity pet!
Rings of Mara. By the looks of it you can "Complete the Ritual of Mara with a friend and receive an experience bonus when you play together".
On top of that, physical Imperial Edition will also include the following:
12″ tall Molag Bal statue – cool!
Emperor's Guide to Tamriel – A 224-page illustrated guide annotated by the Imperial scholar, Flaccus Terentius.
Printed map of Tamriel.
Pre-order bonuses (these are available for Standard Edition too if you pre-order):
5 days early access for PC/MAC.
You can play any race in any alliance. This is absolutely HUGE. Depending on how this is implemented, it basically means that your race selection no longer defines your faction, but you get to choose both the race and the faction separately.
Scuttler vanity pet
Bonus treasure maps