Weekly Tamriel Journal ESO News Round-up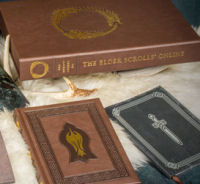 In the Round-up:  • Mounts Included in ESO Cash Shop • Tamriel Journal Alchemy Simulator • Adventure Zones Confirmed to be Post Launch Content • ZAM's Addon Manager for ESO: Minion • 5 Million Players Signed Up for ESO Beta •
Game Director Matt Firor confirmed in a ZAM interview that the ESO Cash Shop will include mounts.
Tamriel Journal Alchemy Simulator
We have released the first version of our Alchemy Simulator. It's a fun little tool to use if you want to play around with Alchemy ingredients and see what kind of a potion they would make.
We're working on the next version of the simulator.
Adventure Zones Confirmed to be Post Launch Content
Some interesting bits:
"If you're reading this, you're probably one of the 5 million people that have registered for the ESO beta, and likely participated in one of our large beta tests. That's a wonderfully large number of people who have become part of our ESO community, and it continues to grow."
"In addition to continuous pre-launch adjustments, we have been developing lots of additional content for the game. Soon we'll reveal our first post launch content update, the adventure zone, 'Craglorn' which is dedicated to group-based, end-game PvE repeatable content. It's the start of our commitment to meaningful updates which will be coming shortly after launch and regularly." – Matt Firor
ZAM Network announced their addon manager for ESO, Minion, which includes the following features: