Community Manager of Elder Scrolls Online, Jessica Folsom, has confirmed that the beta client can be updated to live version of Elder Scrolls Online when the time comes. This means you will not have to do a fresh install of the full game, but you only need to patch the beta client to match the live version of Elder Scrolls Online once the full game is released.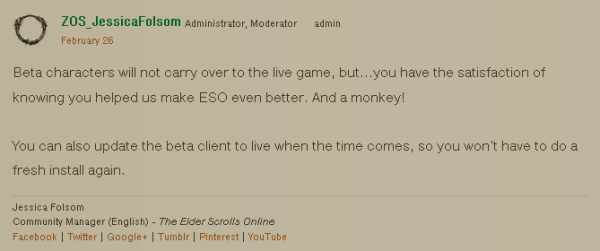 This is great news for those who have purchased the digital download version of the game and who have taken part in ESO beta. Not having to download the full game again, which will likely be close to 30 GB at launch, is going to save some precious time and hassle. The patch will no doubt take some time to download, but should definitely be a quicker job than a fresh install.
It was already known that you would not be able to transfer your beta characters to the live game, but now there's no excuse for not knowing that, right? Oh, and everyone who has beta tested ESO will receive a monkey vanity pet for their efforts!