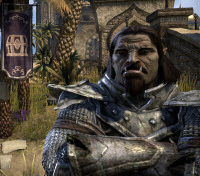 In a recent ZAM Network interview Game Director of Elder Scrolls Online, Matt Firor, confirmed that ESO Store is going to provide various different services to players – including mounts. There's going to be two items in the shop provided at launch: a Palomino-colored entry-level horse, and the ability to upgrade your game to Imperial Edition, which gives you access to the White horse and the ability to play as as Imperial, to name a few perks.
Zenimax is walking on thin ice here in my opinion. Mounts are a pretty standard item of any in game cash shop, you could argue. You could also reason that the Imperial race, which is a reward for only those who purchase the Imperial Edition of the game, is just fluff. On the other hand, one could say that paying money to get a mount is nothing short of paying to win. Where does Zenimax draw the line?
In a Destructoid and ESOHub.de interview in 2013, Matt Firor talked about subscription fees and cash shop in the following way:
"You pay once per month after the first 30 days and the entire game is available to you."

"The Elder Scrolls games are all about allowing the player to go where they want, be who they want, and do what they want. We feel that putting pay gates between the player and content at any point in game ruins that feeling of freedom, and just having one small monthly fee for 100% access to the game fits the IP."

"There won't be anything like 'bonus points' but we'll have a shop to buy kinda fun stuff and services too, like name changes and things like that. But it's not part of the core game, anything in the core game is included in the subscription price."

"Plus, players will appreciate not having to worry about being "monetized" in the middle of playing the game…"
Well, we are already past that 100% access to the game. If you don't buy the Imperial Edition, you will not be able to play as an Imperial. Period. A huge incentive of playing as an Imperial is the ability to change the appearance of your armor to Imperial Style. This is largely fluff – but we are also talking about a race here, with its own dedicated skill line in ESO. The general consensus is that the Imperial racials are alright for a melee type, but are not overpowered. Still – locking an entire race behind paygates does leave a bad taste in mouth.
Firor mentioned "fun stuff and services", which is now confirmed to also include mounts. Even if we are talking about an entry-level mount, you can't argue that it will not give you an advantage over players who do not have one. You'll be able to get from A to B faster, and you'll be more efficient. Currently mounts in ESO cost a LOT of gold, 17,5k to be precise. Getting your mount the "normal" way is going to hurt a starting player's economy for sure.
Personally I do feel a bit uneasy about these news. I don't mind being able to buy mounts from cash shop, as long as the mounts are on level with those you can get by playing the game. To me that still classifies as "fun stuff". If the cash shop offered mounts with increased movement speed, however, things would be very different.
I sincerely hope that the direction Zenimax has set here doesn't turn the wrong way any further. As long as the cash shop doesn't include inventory space, special buffs, experience boosts and items comparable to them, I'm happy.