Weekly Tamriel Journal ESO News Round-up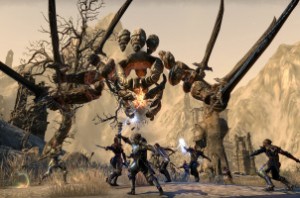 In the Round-up:  •  Craglorn on PTS  •  Matt Firor's State of the Game Address  •  Craglorn Patch Notes & New Features  •  AOE Target Cap Controversy •  Tamriel Journal Updates of the Week  •
Craglorn is now live on the PTS
We are now one month into ESO, and the first major content update patch 1.1. featuring the Adventure Zone Craglorn is live on the Public Test Server. This means we can expect ESO patch 1.1. in the near future!
Matt Firor's State of the Game Address
The Game Director of Elder Scrolls Online, Matt Firor's post on ESO forums titled 'State of the Game Address' gives some insight on what's Zenimax focus for ESO right now.
Craglorn Patch Notes & New Features
The latest Patch Notes for the PTS are up. The patch fixes LOTS of bugs and features a great number of game tweaks.
AOE Target Cap Controversy
A change to AOE Target Caps reported in the PTS build is causing a lot of mixed feelings on the official ESO forums and Reddit.
"Fixed an issue with several area-of-effect abilities where they could erroneously hit an unlimited number of targets."
This change puts a maximum AOE target cap of 6 targets in place for all damage and healing abilities. The worry behind this change is that PvP would begin to favor zergs. 40 players stacking on top of each other would be very difficult to encounter, because at any given time you'd only be able to damage six of the players, essentially granting most of the group invulnerability. This of course limits the usefulness of smaller groups, and pretty much renders them useless against large groups. Without the AOE cap, a small & coordinated group could AOE down zergs.
However, Zenimax confirmed that most abilities ALREADY have an AOE cap on the live build of ESO.
ZoS_JessicaFolsom wrote:
We're working on pulling together a list of the impacted abilities. We'll likely have it tomorrow or Monday. That said, this only impacts a handful of area-of-effect abilities that did not already have a cap. Almost every area-of-effect ability in ESO already has a cap on the live server. This is not a sweeping change to all area-of-effect abilities.
Whilst the concerns for zerg mentality in PvP are valid, not a lot is going to change comparing to the current state of the game. A couple of abilities are bugged and don't have the AOE cap – this is the issue which will be addressed with patch 1.1.
Tamriel Journa Updates of the Week
Matt Firor's State of the Game Address
ESO Provisioning Ingredients – Which Ones to Keep
Matt Firor's State of the Game Address
Links & Videos
Creating ESO: Trials (elderscrollsonline.com)
New Craglorn Site (elderscrollsonline.com)